ROLAND DG VERSASTUDIO BN2 SERIES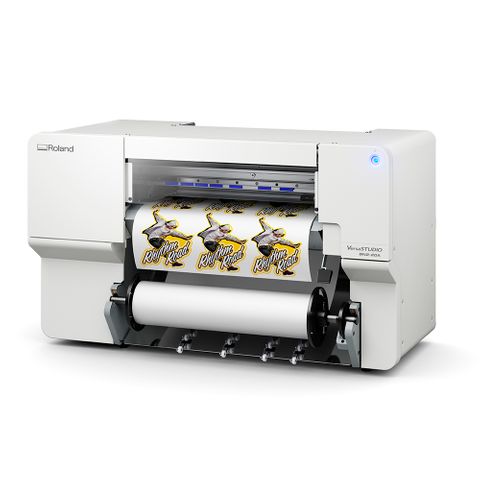 The VersaStudio BN2 Series, from Roland DG, are second-generation printer/cutters that offer outstanding print quality with increased speed.
Ink type: Roland DG ECO-SOL MAX2
Colours: CMYK or CMYK with Optional White
Available widths: 510mm
With the next-generation BN2, Roland DG has taken a great thing and made it even better. These compact powerhouses offer significantly faster print speeds, convenient new features, ease of use, and a space-saving design that allows for placement in a home, office, or shop. The BN2 is everything you need to get started in professional print and cut graphics production.
Professional quality printing and cutting functionality allows for a wide range of applications
Faster print speeds for optimum productivity
Affordably priced to suit the budgets of start-ups, & smaller businesses
Easy to use – even for those with no prior printing experience
Compact size is ideal for print environments with limited space
Feature-filled, intuitive design and output software included
Print and Cut with One Powerful, Compact Device
With their ability to print vibrant, detailed graphics on vinyl, film, heat transfer material, and other types of media, the BN2-20 and BN2-20A offer outstanding versatility. This media compatibility, combined with faster print speeds, integrated print/cut functionality, and unsurpassed ease of use, makes these value-packed desktop devices perfect for a wide variety of applications. The BN2 series makes creating everything from custom T-shirts and accessories to eye-catching signs, decals, and wall décor quick and simple – even for print novices.
Professional Quality and Features
The BN2-20 and BN2-20A incorporate advanced print and cut technology that lets you print and contour cut graphics, even those with complex shapes, in one simple, seamless automated workflow. This integrated print/cut functionality saves you considerable time and effort when creating graphics for a wide range of applications.
BN2 series devices use the same high-definition printheads and inks found in printers used by professionals in graphic production. Not only do these devices offer excellent colour reproduction and photographic quality, but they also render small letters and fine lines in great detail. They also support True Rich Color 3, a printing setting that is highly acclaimed by printing professionals.
BN2 series devices print four times faster than previous BN models and feature the same quick, accurate integrated cutting as high-end Roland DG printer cutters. This increased print speed combined with the ability to efficiently contour cut even complex shapes allows you to optimise productivity and maximise profits.
Included Software to make life easy!
FlexiDESIGNER VersaSTUDIO Edition Software
BN2 series come bundled with FlexiDESIGNER VersaSTUDIO Edition design and output software that allows even those with little or no printing experience to start creating and outputting colourful, attention-grabbing graphics immediately after purchasing their BN2. This feature-filled, intuitive software is a complete solution, providing a host of useful tools for creating shapes, text, and effects, while also simplifying the print and cut workflow.
Included VersaWorks 6 Output Software
For users looking for even greater control over BN2 output settings and capabilities, every BN2 device also comes with VersaWorks 6 output software. Easy to use and powerful, VersaWorks 6 offers features and tools that optimize quality and streamline processes for the printer, ink and media. VersaWorks also simplifies the setup of print layouts, generates cut lines for print and cut applications, and comes with built-in colour management tools to make reproducing specific colours easier than ever.
Specifications
Specification
BN2-20 VersaStudio

BN2-20A VersaStudio
Our Price
Max. Printing Width

480mm

Max. Cutting Width

480mm

Media Width

150mm to 515mm

Interface

Ethernet (100BASE-TX/1000BASE-T, automatic switching)

Print Technology

5-Colour CMYK + White

4-colour CMYK

Print Resolution

Maximum 1440 dpi

Head Cleaning

Automatic & Manual

Ink Types

ECO-SOL MAX2

Ink Cartridge

220ml per cartridge

Cutting Speed

10-150 mm/second

Included Software

FlexiDESIGNER & Roland DG VersaWorks 6


Power Saving

Auto Sleep

Heater Unit Temp Range

30-38° Celsius

Recommended Environment

Temperature 20-32° Celsius; Humidity 35-80%

Accessories

Power cord, Media take-up unit, media holders, replacement blade for separating knife, User's Manual, Software (FlexiDESIGNER VersaSTUDIO Edition, VersaWorks, Roland DG Connect), etc.

Dimensions

(W) 1069mm x (D) 617mm x (H) 622mm

Weight

62kg
Downloads