ROLAND DG TRUEVIS AP-640 RESIN PRINTER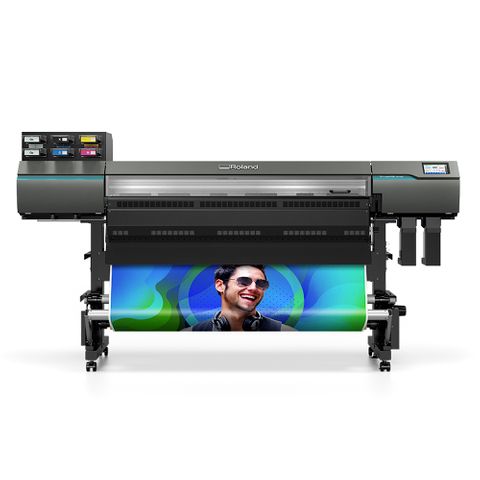 Build and expand your sign and graphics business with a wide range of applications, low running-costs, and the quick drying benefits of Roland DG's first resin printer.
Dual, staggered printheads with variable dot printing and True Rich Colour presets offer natural, vibrant print results with higher colour saturation
Water-based TrueVIS Resin Ink provides quick-drying, scratch-resistant, and safe results on a wide range of media
Legendary Roland DG machine reliability, service, and support now available in a resin ink printer
Do More with Resin Printing
The TrueVIS AP-640 redefines resin printing with high colour saturation on a wide range of materials. It features new TrueVIS resin ink and advanced machine features to optimise colour reproduction and expand your graphics to include a wide range of applications. These include:
Wallpaper
Interior Wall Graphics
Labels and Stickers
Fabric and Fine Art
Vehicle Graphics
Floors and Beyond...
Putting Quality First with Clean and Safe Resin Ink Printing
Variable Dot Printing - Benefit from hundreds of dedicated, media-specific printing profiles that control optimal ink volume and drying temperature. An optimiser prepares the media surface facilitating the formation of precise dots while variable dot control technology creates unparalleled image quality never before seen in a resin ink printer.
Dual Staggered Print Heads for Resin Inks - Printheads are arranged in a dual, staggered formation with an optimizer printhead that preps the media surface for the CMYK printhead. This enables ink droplets to form a finer dot, resulting in more precise colour and images.
TrueVIS Resin Ink - The highly concentrated colour pigmentation enables heavier saturation than conventional resin inks for optimum impact on paper, fabric, canvas, wallpaper, non-PVC materials, and other media.
True Rich Color - The True Rich Color preset takes full advantage of the high colour saturation of new TrueVIS Ink to maximize vibrancy and ensure neutral greys, smooth gradations, and natural skin ones.
Prioritizing Safety - TrueVIS Resin inks are GREENGUARD Gold certified, meaning they meet strict standards of low chemical emissions making them ideal for indoor applications.
AP-640 Professional Features
Touch Panel Operation - A 7-inch full-colour touch panel with intuitive settings and functions makes print operations simple. Clearly defined icons for set-up, maintenance, print volume, consumables, print status and more allow for a convenient, streamlined workflow.
High-Productivity Dryer Unit - Newly designed dryer unit allows pritns to dry quickly and completely before proceeding to the next process, saving hours of production time.
Included Take-Up Unit - An adjustable take-up provides print stability for a wide range of popular media. It allows easy installation of a loading platform for clean, efficient media collection.
TrueVIS for the Future
With over 28.000 users worldwide, TrueVIS perfectly embodies Roland DG's long legacy of premium, high-quality print and cut. The AP-640 adds water-based resin printing to the TrueVIS family.