ROLAND DG TR2 SERIES INKS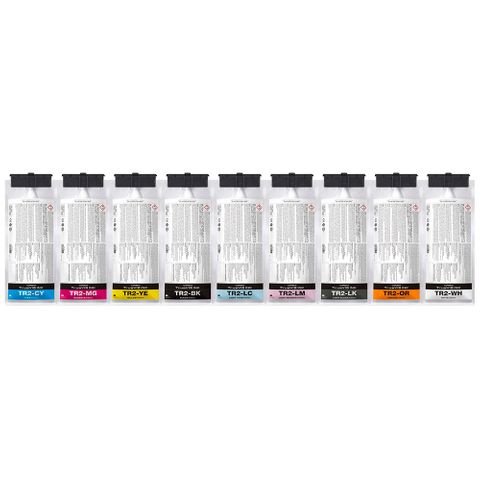 TrueVIS TR2 INK has been GREENGUARD Gold certified, delivers a wider colour gamut and excellent output, while also allowing you to print then laminate in as little as 6 hours.
500ml pouches
Cyan, Magenta, Yellow, Black, Lt Cyan, Lt Magenta, Lt Black, Orange, Green*

*Green only compatible with VF2 & VG2 printers purchased after July 2020.
A New Generation of TrueVIS Eco-Solvent Ink
In addition to seven colours (CMYKLcLmLk) plus White, new TR2 ink includes Orange and Green (for printers purchased after July 2020), increasing breadth of colour gamut and adding real impact and high visibility to graphics. For even richer prints, a new Multiprocess Color Function has been developed so that Orange and Green ink can be used in all file types as a process colour or spot if specific colour matching is required. Plus, it's now possible to print then laminate graphics in as little as 6 hours for same-day installation.
True Rich Colour Invented Here
In order to take full advantage of the VG2 and VF2's superior colour reproduction capability and the wide colour gamut provided by new TR2 ink, we developed a new colour management preset, True Rich Colour. Now vibrant colour can be combined with neutral grays, smooth gradations and natural skin tones to create stunning graphics.