IMPACT CNC STORM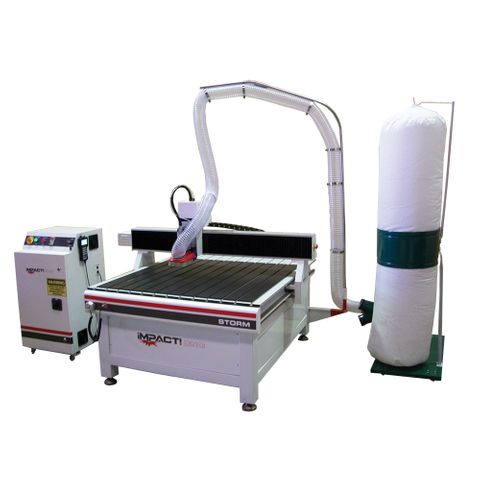 The Storm, from Impact CNC, is an ideal machine for sign making, parts fabrication and prototyping where space is a problem. It offers economical routing of designs in a smaller format, yet still maintains dependability and ease of use. The cut quality produced by the Storm will impress both end-users and their customers. Impact CNC Storm routers can cut a wide variety of materials including:
Timber
MDF
Plastics
Aluminium Composite
Foam
Soft Metals and much more...
Both the steel table-frame and cast aluminium gantry on the Storm are manufactured to the highest standard. All 3 axes are powered by economical, reliable, and quiet Stepper motors which provide a good mix of torque and power. High-accuracy ball-screw drives feature on all axes. The X and Y axes run on square linear bearings and rails to ensure smooth and accurate travel.
Cutting on the Storm is performed by an HSD 1.5kw air-cooled Manual Tool-Change spindle. Materials are held down with a T-slot table top and dust is efficiently removed with the Impact CNC dust extraction system which is included as standard (except for the S2). All these components are driven by the easy-to-use NC-Studio CNC controller.