Home

/

iECHO BK3 FLATBED CUTTER
iECHO BK3 FLATBED CUTTER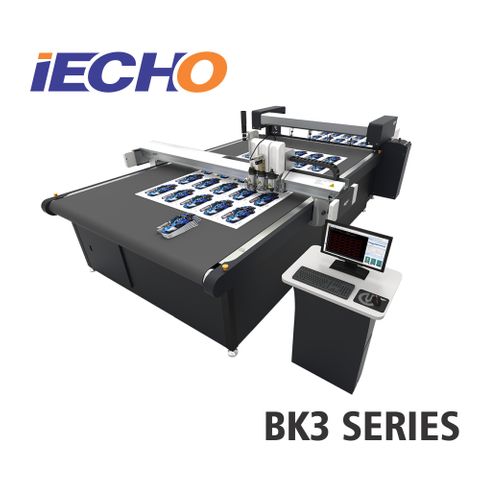 BK3 HIGH SPEED DIGITAL CUTTING SYSTEM
IECHO High Precision Digital Cutting System
The iECHO BK3 flatbed digital cutter can perform through cutting, kiss cutting, milling, punching, creasing and marking functions with high speed and high precision. With conveyor, stacker and collecting options, it can complete material feeding and collecting quickly. BK3 is excellent for sample making, small and large scale production and suits the sign, advertising, printing and packaging industries. BK3 from iECHO is the real all-around champion in material cutting.
Efficient Cutting Heads
The BK3 can be configured with 1, 2 or 3 cutting assemblies if multi-tool jobs are being cut. A wide range of tools can be quickly clipped into the chosen number of head assemblies. Maximum cutting speed is 1.5m per second, which allows for extremely good production efficiency.
Precise Automatic Positioning System Option
With the high precision CCD camera option, the BK3 can accurately locate the position of registration marks when cutting many different printed materials. It can automatically resolve the problems of manual positioning deviation and print deformation.
IECHO Motion Control System
iECHO's CUTTERSERVER makes the cutting process smooth, efficient, perfect.
Safety Device
A built-in safety device ensures the security of the operator. If the beam is broken the machine will halt until restarted after the obstruction is removed.
IECHO Automatic Knife Initialisation
With the BK3 it is easy to control the cutting depth, accuracy is guaranteed with the built-in infrared sensor which measures the tool length.
IECHO Continuous Cutting System Options
iECHO's intelligent conveyor system makes feeding, cutting and collecting work easy. A continuous cutting function can cut long pieces, saving labour costs and significantly increasing productivity.
Huge range of tools
Some of the tools available with the iECHO BK3 include:
EOT - Electric Oscillating Tool for cutting soft and medium density materials. Features a 1mm stroke.
POT - Pneumatic Oscillating Tool is an air-driven tool with high oscillating frequency. The stroke is up to 8mm and it's suitable for cutting hard, dense materials. It can cut materials up to 50mm thick depending on the blade installed.
DRT - Driven Rotary Tool for cutting textiles.
UCT - Universal Cutting Tool for through-cutting materials with thicknesses up to 5mm. Fast speed and low cost.
KCT - Kiss Cut Tool is for cutting self-adhesive vinyl, foil, films, thin paper, cardboard and other thin materials.
CTT - Creasing tool is used for creasing corrugated materials, ideal for packaging.
RZ - Router spindle (high speed) with a rotary speed of up to 50,000rpm. Can cut a wide range of hard and soft materials and also do precise engraving. Dust extraction system included.
V-CUT - V-Cut tool for producing complex structural designs from foam core or sandwich board. The tool can be set at up to five different angles.
Specifications
Specification
BK3-1713
BK3-2513
BK3-2517
BK3-3017
Cutting Area
1.7m x 1.3m
2.5m x 1.3m
2.5m x 1.7m
3.0m x 1.7m
Machine Dimensions
2.5m x 2.1m
3.2m x 2.1m
3.2m x 2.4m
3.8m x 2.4m
Max Cutting Speed
1500mm per second
Cutting Accuracy
0.1mm
Max Thickness
50mm
Data Format
DXF, HPGL, PDF
Media Hold
5.5kw Vacuum System
Power
415v 3-phase
Environment
Temperature 0-40 Degrees C Humidity 20-80% RH
Downloads