Home

/

ROLAND DG TRUEVIS VG2 PRINTER/CUTTER
ROLAND DG TRUEVIS VG2 PRINTER/CUTTER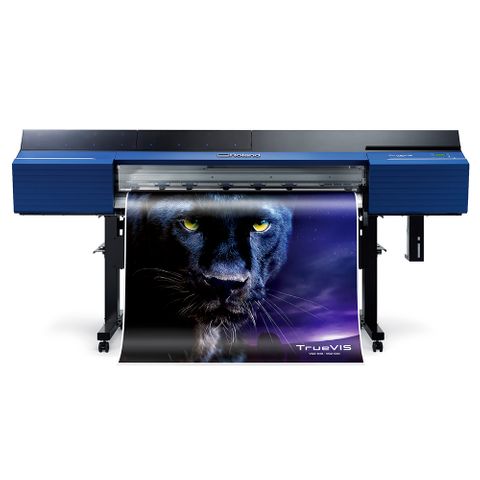 With more than 40 exciting enhancements, TrueVIS VG2 printer/cutters are engineered to meet, then exceed the quality and production needs of today's most demanding print professionals with prints that can be finished in as little as 6 hours. Featuring new TR2 ink with Orange and new colour management pre-sets for superior colour reproduction, the VG2 offers industry-leading print and cut accuracy with smart new automated pinch rollers.
Features
A New Generation of TrueVIS Eco-Solvent Ink
In addition to seven colours (CMYKLcLmLk) plus White, new TR2 ink includes Orange, increasing breadth of colour gamut and adding real impact and high visibility to graphics. For even richer prints, a new Multiprocess Color Function has been developed so that Orange ink can be used in all file types as a process colour or spot if specific colour matching is required. Plus, it's now possible to print then laminate graphics in as little as 6 hours* for same-day installation.
True Rich Colour Invented Here
In order to take full advantage of the VG2's superior colour reproduction capability and the wide colour gamut provided by new TR2 ink, we developed a new colour management pre-set, True Rich Colour. Now vibrant colour can be combined with neutral greys, smooth gradations and natural skin tones to create stunning graphics.
Unsurpassed Cutting Performance
The VG2 offers a host of technological advancements to improve both printing and cutting accuracy for reliable results during unattended operation. New middle pinch rollers raise automatically prior to starting the cutting process for unattended operation. New crop mark options for cutting laminated printed materials in combination with optimised side pinch roller pressure provide more stable cutting performance.

Productivity Features
Improved workflow
The VG2 takes machine efficiency to a new level with faster set-up time and sequence optimisation, reduced maintenance ink consumption, and a range of features to power your productivity.

New Media Take-up System - Optional
An optional TUC4 automated take-up system offers two modes to expertly handle everything from thin films to heavy canvas materials and provides rock-solid take-up stability for simple post print processing.
Nozzle Mask Function
The VG2 is built on renowned Roland DG reliability and is engineered to keep you up and running. In the unlikely event of a blocked nozzle users can specify which section of the printhead to use, allowing production to continue with minimum impact while awaiting a RolandCare engineer.
Roland DG Mobile Panel
For streamlined print production, Bluetooth-enabled printer management allows you to remotely control your printer more than ever - test print, clean and troubleshoot your VG2 from your tablet or smartphone.
Specifications
Specification
VG2-640 TrueVIS Printer/Cutter

VG2-540 TrueVIS Printer/Cutter
Our Price
Max. Printing Width

1600mm

1346mm

Max. Cutting Width

1600mm

1346mm

Media Width

315mm to 1625mm

275mm to 1371mm

Interface

Ethernet (100BASE-TX/1000BASE-T, automatic switching)

Print Technology

8 colors (CMYKLk plus Orange, Green, and White)
8 colors (CMYKLcLmLk plus White)
8 colors (CMYKLcLmLk plus Orange)
7 colors (CMYKLk plus Orange and Green)
4 colors (CMYK)

Print Resolution

Maximum 1200dpi

Head Cleaning

Automatic & Manual

Ink Types

TrueVIS TR2 Ink

Ink Cartridge

Permanent with 500ml replaceable pouches

Ink Monitoring

Ink level indicator for each colour, ink low warning system - Roland DG OnSupport

RIP Software

Roland DG VersaWorks 6


Power Saving

Auto Sleep

Heater Unit Temp Range

30-50° Celsius

Recommended Environment

Temperature 20-32° Celsius; Humidity 35-80%

Accessories

Power cord, Dedicated Stand, Drain Bottles, Media Clamps, Media Holders, VersaWorks Dual RIP, Users Manual, Setup Guide

Dimensions

(W) 2945mm x (D) 730mm x (H) 1310mm

(W) 2685mm x (D) 730mm x (H) 1310mm(W)

Weight

204kg with Stand

188kg with Stand



Downloads