ROLAND DG VERSAUV LEJ-640 HYBRID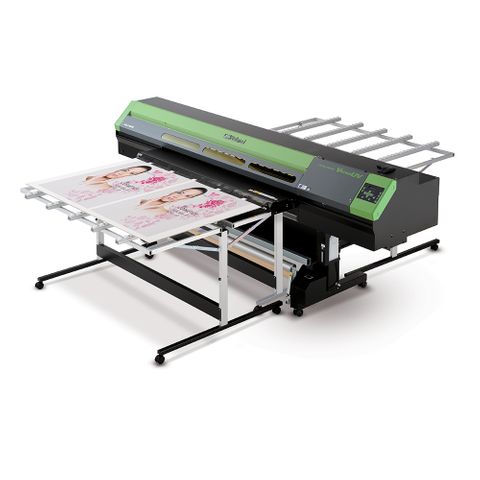 Features
64" Hybrid UV-LED printer - prints on rigids and roll material
Rear and front folding tables support rigid media up to 13mm thick
Automated sensor technology prevents head collision and eliminates user errors
Six piezo printheads maintain quality at production output speeds
ECO-UV inks are the industry's newest generation of UV inks
Six colors (CMYK+White plus Clear Coat)
Layered clear coat produces unique textures and finishes
Intelligent ink circulation system prevents white ink from settling
Supports hundreds of media options including PVC board, aluminium composite, PVC, foam board, vinyl and much more
Safe, long lasting and energy efficient LED Lamps
Outstanding image quality up to 1440 dpi
Roland DG VersaWorks RIP software
Easy-to-Use Graphical User Interface
Roland DG Colour System for spot color matching
Variable Data Printing
Three-Year Heads and All Warranty
Unsurpassed media compatibility
VersaUV supports printing on PVC, PE, PET film, offset printing stock, and more. The low heat UV LED lamps allow printing on heat-sensitive media such as shrink wrap, pressure sensitive media and paper stocks with no risk of damaging the substrate. You can also use the VersaUV to create original patterns and 3D domed corporate logos directly onto synthetic and natural leathers and to customise window coverings, tapestries and other interior décor items. The LEJ-640 enables printing on rigid media such as corrugated cardboard for folding cartons, polycarbonate sheets for membrane switch applications and Foamcore,Gatorfoam®, Aluminium Composite and more for POP and exhibit walls.
VersaWorks RIP Software
VersaWorks RIP software was developed by Roland DG engineers for the company's wide-format inkjet devices. VersaWorks combines powerful features with an easy-to-use interface for outstanding results print after print. Based on the latest Abobe CPSI engine (3019), VersaWorks is now faster and more precise than ever before and features advanced print server functions allowing users to manage up to four Roland DG inkjet devices simultaneously. VersaWorks also offers support for Roland DG's GR series cutters which allows professionals to manage stand-alone cutting operations or pair a Roland DG cutter with a Roland DG inkjet printer for print/cut applications. The VersaWorks PerfCut function enables users to produce precision perforated cut lines. VersaWorks also allows users to select either conventional dual-pass or single-pass print modes for white ink applications.VersaWorks features also include proven productivity tools such as the Roland DG Colour System for easy, precise spot color matching, the Max Impact Preset for richer color contrast, and Variable Data Printing. Other VersaWorks features include embedded ICC profile support, ink level adjustment tools, software proofing capabilities and advanced cropping, tiling and nesting options. VersaWorks supports Windows 7, XP and Vista.
Production Print Speeds
The LEJ-640 features large UV-LED lamps to expedite production with a maximum print speed of 12.4 sqmt./hr. in High Speed mode. The 1440x1440 dpi mode produces press-proofs with flawlessly smooth gradations, super fine details and sharp text on actual substrates used for production. Roland DG Intelligent Pass Control™ ensures consistent print quality with virtually no signs of banding in all print modes
Roland DG Intelligent Pass Control
Roland DG Intelligent Pass Control technology developed by Roland DG software engineers represents the pinnacle of inkjet printing. This patent-pending system precisely controls dot placement between passes and delivers unprecedented imaging performance in all resolutions. The technology actually enhances image quality at higher print speeds thereby increasing productivity. As a result, the LEJ-640 produces smooth gradations and flawless solid colors while achieving faster throughput with virtually no banding in all print modes
Environmentally friendly ECO-UV Inks
Across an unprecedented range of substrates, the LEJ-640 prints ECO-UV inks in CMYK + White + Clear. The LEJ-640 can be configured with any of these three ink combinations:
CMYK + White + Clear
CMYK + White + White
CMYK + Clear + Clear
As the most versatile ink configuration, CMYK + White + Clear can be used for a wide range of applications including packaging prototypes, labels, high end press-proofs and unique textured graphics.
The CMYK + White + White mode achieves higher opacity without slowing down the printing with overprinting, perfect for white text and graphics, undercoats and to enhance the brightness of four-color prints. The white produced with this ink configuration can be up to 1.5 times more opaque than the normal white, all without requiring a complicated workflow or overprinting.
ECO-UV Clear adds remarkably rich special effects ranging from high-gloss finishes for area highlights to custom-textured effects such as faux leather, crocodile skin and even Braille. The CMYK + Clear + Clear mode can build up three-dimensional textures twice as fast as the normal ink mode and can produce more dramatic effects with bigger reliefs.
ECO-UV ink shines for indoor graphics, offering superior scratch and chemical resistance. Outdoors, ECO-UV ink lasts up to two years when Clear is applied as a finish and up to six months without Clear. ECO-UV ink is packaged in no-mess 220ml cartridges and safe after curing. With ECO-UV ink, proper ventilation is recommended. The LEJ-640 series is ventilation-ready, featuring a connector on the back of the printer for easy connection with an air filtration system.
ECO-UV ink adheres to a wide range of treated and untreated substrates with exceptional colour gamut. Instant-drying and flexible, ECO-UV ink produces prints that can be stretched and applied around curved surfaces and edges without cracking.

State of the Art Curing System
The LEJ-640 includes two state‐of‐the-art solid state UV LED lamps arranged in a staggered configuration that offer many advantages over conventional UV lamps including:
Longer Life
VersaUV LED lamps last up to 10,000 hours which is ten times longer than conventional UV lamps.
Low Heat
While conventional UV lamps can reach temperatures as high as 800°C requiring complex heat management systems, the LED lamps on the LEJ-640 generate very little heat. This ensures that the UV lamps virtually eliminate any heat-related risks such as substrate damage and head crash caused by media deformation.
Instant On/Off
LED lamps can be turned on and off instantly and are ready to use immediately after the printer is turned on. By contrast, conventional curing systems may take up to ten minutes to reach the targeted output level. Conventional curing systems also require complex, noisy and failure-prone shutter systems to protect substrates and head capping systems from exposure to UV light and heat.
Produces Two Clear Coat Finishes
The staggered arrangement of UV lamps, with the left lamp mounted in line with the print heads and the right lamp mounted forward, is another Roland DG innovation. This first-of-its-kind configuration enables a choice of gloss or matte clear coat finishes. When gloss finish is selected, only the right lamp is used for curing, allowing enough time for clear coat droplets to spread and form a smooth surface which reflects light evenly. For matte finish, both lamps are used, curing the clear coat droplets shortly after they land on the media forming a rough surface which scatters the light.
Advanced Media Take‐Up System
The LEJ-640 includes an automated media take-up system to facilitate precision unattended printing. This pre-assembled unit includes an advanced tension-controlled take-up system for optimum media feed and tracking.
Energy Efficient and Ozone Free
The LEJ-640 requires a fraction of the power required by conventional UV printers and can be operated on a standard electrical outlet without an additional power supply. This low power design automatically saves thousands of dollars in electric bills each year and reduces considerably the emission of green house gases.
In addition, the LEJ-640 uses a light source that is completely ozone free and emits light in the range called Near-UV of the UV spectrum, making it a safe alternative to conventional UV lamps. The LEJ-640 carries Roland DG's Eco-Label for environmental compliance.
Three Year "Heads & All" Warranty
There's no question that Roland DG inkjets combine unbeatable performance with legendary Roland DG reliability. As further proof of their unmatched reliability, Roland DG is pleased to offer an unprecedented Three-Year Heads and all Warranty on the VersaUV LEJ-640. All that's required for this bonus is return of the registration card with installation information within 30 days of your purchase, confirmation that Roland DG inks are running in the machine and regular maintenance is carried out*.
*Additional Terms and Conditions apply - details are available on request
Specifications
| | |
| --- | --- |
| Specification | LEJ-640 VersaUV (excluding filter) |
| Max. Printing Width | 1615mm |
| Acceptable Rigid Media | 250mm to 1625mm width x 13mm thickness (12kg max weight) |
| Acceptable Roll Media | 210mm to 1625mm x 1mm thickness (40kg max roll weight) |
| Interface | Ethernet (100Base-TX or 10Base-T) |
| Print Heads | 6 x Piezo Inkjet |
| Print Colours | 6-Colour CMYK plus White & Clear Coat |
| Print Resolution | Maximum 1440 dpi |
| Ink Curing Unit | Dual UV LED Lamps |
| Ink Types | Eco-UVTM |
| Ink Cartridge | 220ml per cartridge |
| Ink Monitoring | Ink level indicator for each colour, ink low warning system |
| RIP Software | Roland DG VersaWorksTM |
| Power Saving | Auto Sleep |
| Exhaust/fume extraction system | Optional but recommended |
| Recommended Environment | Temperature 20-32° Celsius; Humidity 35-80% |
| Accessories | Stand, table units, power cord, media clamps, replacement blade for separating knife, software RIP (Roland VersaWorks ), user's manual, etc. |
| Dimensions | (W) 3184mm x (D without tables) 836mm x (H) 1281mm ( (D with tables) 3658mm ) |
| Weight | 240kg without tables / 316kg with tables |
Downloads