ROLAND DG TRUEVIS VF2-640 PRINTER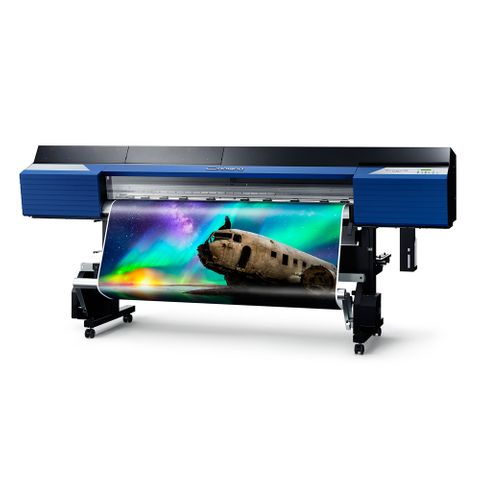 The TrueVIS VF2-640 from Roland DG, is a professional-level printer that offers outstanding print quality, a wider colour gamut, great speed and optional takeup roll.
Ink type: Roland DG TrueVIS TR2 Ink
Colours: CMYKLcLmLkOr (Optional White or Green Set ups)
Available widths: 1625mm
The TrueVIS VF2-640 large format printer doesn't just widen your colour gamut, it takes your colour completely off-the-chart with Roland DG's richest and most vivid TrueVIS colour output yet that allows you to perfectly target specific brand colours. With award-winning TR2 Inks feature new Green and Orange ink choices to target previously unreachable or difficult-to-match colours. A smooth, seamless print operation with enhanced design, job sequences, software functions and operation panel.
Our Best Ever Colour Output with True Rich Colour 2
The True Rich Colour 2 preset in VersaWorks 6 RIP software takes full advantage of Greenguard Gold Certified TR2 Inks in CMYK, Light Cyan, Light Magenta, Light Black, White, Orange and Green ink configurations. The off-the-chart colour gamut of True Rich Colour 2 maximizes the potential of both printer and ink for ultimate vibrancy combined with neutral greys, smooth gradations, and natural skin tones.
The Benefits of Green and Orange TR2
Pantone and Colour Targeting Capabilities
Standard Pantone® and DIC colours can be quickly matched with accurate results using the Roland DG Colour System Library. With approximately 260 new spot colour references for Orange to Red areas and Blue to Green areas now available, specific targets which had been regarded as unreachable or difficult to match can now be easily achieved.
Colour matching
Green and Orange have been added for Colour Accuracy on Many Colours. A new "green territory of colour" doesn't just mean advanced green colour matching. It equates to new areas of purples, reds, and other challenging hues. A new Multi-Process Colour Function has also been developed for the VF2-640 to enable use of Orange and Green inks as process colours.
Productivity Features
Improved Machine Operation
With improved machine operation, the VF2-640 offers smooth production and print efficiency to help build your business.
New Media Take-Up
An included TUC4 take up system offers two modes to expertly handle everything from thin films to heavy canvas materials and provides take-up stability for a smooth post process.
Nozzle Mask Function
If a nozzle on the printhead is misfiring, minimize printer downtime by turning off a specific nozzle band to allow continued production.
Roland DG Mobile Panel 2
A newly improved Bluetooth enabled mobile panel allows you to test print, clean and troubleshoot your VF2-640 from your tablet or smartphone.
Specifications
Specification
VF2-640 TrueVIS Printer

Our Price
Max. Printing Width

1615mm

Media Width

259mm to 1625mm

Interface

Ethernet (100BASE-TX/1000BASE-T, automatic switching)

Ink Types

TrueVIS TR2 Ink

Print Technology

8 colors (CMYKLk plus Orange, Green, and White)
8 colors (CMYKLcLmLk plus White)
8 colors (CMYKLcLmLk plus Orange)
7 colors (CMYKLk plus Orange and Green)
4 colors (CMYK)

Print Resolution

Maximum 1200dpi

Head Cleaning

Automatic & Manual

Ink Cartridge

Permanent with 500ml replaceable pouches

Ink Monitoring

Ink level indicator for each colour, ink low warning system - Roland DG OnSupport

RIP Software

Roland DG VersaWorks 6

Power Saving

Auto Sleep

Heater Unit Temp Range

30-50° Celsius

Recommended Environment

Temperature 20-32° Celsius; Humidity 35-80%

Accessories

Dedicated stands, power cord, media holders, replacement blade for separating knife, cleaning liquid, drain bottle, user's manual, etc.

Dimensions

(W) 2945mm x (D) 730mm x (H) 1310mm

Weight

200kg with Stand



Downloads